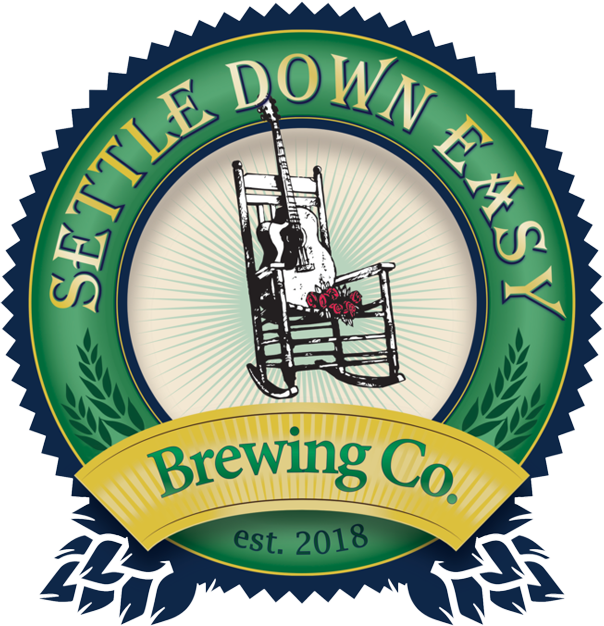 About

Our Story
We are excited to be the setting that brings people together! For us, we started Settle Down Easy with meaning and care. The name comes from a lyric in the Grateful Dead song Ramble on Rose. The 6 roses on the chair offer pull through from the Dead, but our 3 owners each have 2 children, thus the 6 roses. The guitar represents good music that expands the mind and touches the soul. Keeping with that mindset, the chair is a comfortable image. When thinking of a rocking chair you are transported to a huge wrap around front porch or a beautiful overlook of a river.
The concept of Settle Down Easy was inspired one year following the death of Bryan, (better known by his friends as Tut) the younger brother of one of our owners.  He is the one who inspired the Notre Dame Fighting Irish, color palette – Bryan's favorite football team. Additionally, there are 36 wheat kernels as Bryan died 2 days shy of his 36 birthday.  One year after his passing, a dear friend posted a story on Bryan's Facebook wall that started with the words – Settle Down Easy…
When the owners of SDE filed for trademark on Settle Down Easy, they were rejected because Odell Brewing Co in Fort Collins had the rights for Settle Down Brown.  After wonderful conversations with Odell Brewing, on what would have been Bryan's 39th birthday, Odell told us we could use the name and granted us the rights to the name.  Needless to say, we all felt something very special was happening with our brewery.
---
Head Brewer – Henry Jager
Henry started as a passionate homebrewer, while earning an Environmental Studies degree at CU Boulder and completed an internship at the American Homebrewers Association. After completing his assignment, Henry moved to Twisted Pine as Lead Brewer in Boulder. He was most proud of recipe development and medals won at the Great American Beer Festival (GABF) while at Twisted Pine. In 2013 Henry moved back East to join Heavy Seas Brewing and start a family. After five years at Heavy Seas, Henry joined the team at Settle Down Easy Brewing in July 2018 at the beginning of the brewery build out.
In just over a year of being open, Henry has set up and operated the brewery from the build out on. "It's exciting to see the new tanks coming in and I can't believe we're on the cusp of doubling our volume. Lot's of exciting things ahead! We're appreciative of the love and support from the community and can't wait to keep making more beer!". Henry is now joined with top notch Brewer, Derek Stillwagon, as the brewery grows.
Henry is still a passionate homebrewer and regularly brews with his Dad, Charlie, on the weekends with assistance from his Mom, Mary. Henry loves music and is an avid Grateful Dead fan. He is married to his wife Maurirose, and they have two daughters, Alice and Marykate. Henry loves to share his passion for brewing with anyone who will listen!