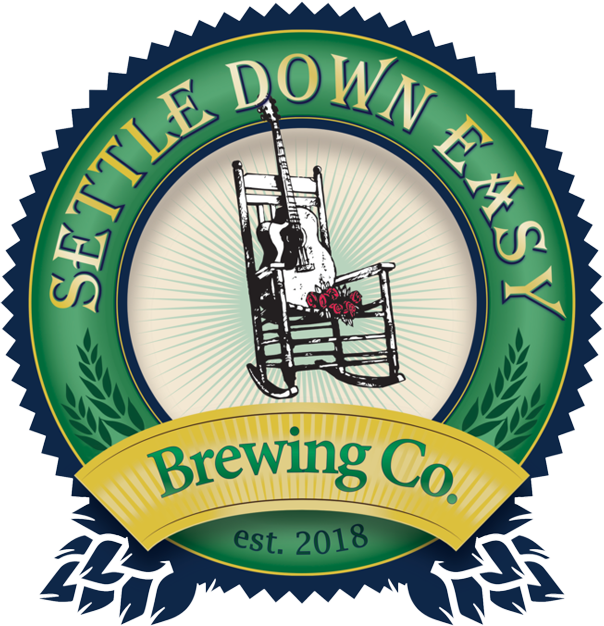 About

Our Story
We are excited to be the setting that brings people together! For us, we started Settle Down Easy with meaning and care. The name comes from a lyric in the Grateful Dead song Ramble on Rose. The 6 roses on the chair offer pull through from the Dead, but our 3 owners each have 2 children, thus the 6 roses. The guitar represents good music that expands the mind and touches the soul. Keeping with that mindset, the chair is a comfortable image. When thinking of a rocking chair you are transported to a huge wrap around front porch or a beautiful overlook of a river.
The concept of Settle Down Easy was inspired one year following the death of Bryan, (better known by his friends as Tut) the younger brother of one of our owners.  He is the one who inspired the Notre Dame Fighting Irish, color palette – Bryan's favorite football team. Additionally, there are 36 wheat kernels as Bryan died 2 days shy of his 36 birthday.  One year after his passing, a dear friend posted a story on Bryan's Facebook wall that started with the words – Settle Down Easy…
When the owners of SDE filed for trademark on Settle Down Easy, they were rejected because Odell Brewing Co in Fort Collins had the rights for Settle Down Brown.  After wonderful conversations with Odell Brewing, on what would have been Bryan's 39th birthday, Odell told us we could use the name and granted us the rights to the name.  Needless to say, we all felt something very special was happening with our brewery.
---
Interim Head Brewer – Derek Stillwagon
Derek is a passionate homebrewer, most recently working at MyLocalHomebrew Store.  Derek has an incredible acumen on all things brewing, and now ready to move up to the commercial level.   Derek attended the University of Florida in Gainesville, during the years it was voted #1 Party School in America.  Also known as the Tebow years.  In 2008, together with good friend and co-worker Chef John Hart, they bought a 5 gallon homebrewing kit and started off with a Irish oatmeal coffee stout.  The first brewing lesson was quickly learned:  One pound of coffee is too much coffee for 5 gallons of beer, but enough to stay up all night watching Netflix and DVDs.
During the last year in Gainesville, Derek worked part time at Tall Paul's craft beer bar and nanobrewery as a bouncer and bartender.  Seeking a change of scenery, Derek moved to Chicago for 3 years, borrowed an all-grain setup from a friend, and brewed extensively to fill an ambitious 8 tap keezer.
For two years Derek hosted potluck brew-parties for a large group of restaurant friends.  During this time they brewed prolific and the personal batch of beer, and freed up kegs to continue to practice a variety of styles and hone favorite recipes.  Like Derek's Pale Ale
A few moves later Derek landed in northern Virginia where an opportunity to leave the restaurant industry and move into a brewing profession.  MyLocalHomeBrewShop was celebrating their 10th anniversary and Derek was the perfect fit to help home-brewers expand their knowledge of beer making!  Derek has worked there for 5 years as the manager and face of the business.  He has met many local home and professional brewers along the way.
In spring 2019, SDE was looking for someone to assist our Head Brewer, as the demand for SDE beer was expanding!  Within 1 year of operation the SDE expanded 30% and it was time to bring in another brewer and Derek was the perfect fit! Derek has won a Gold Medal for his work on our Sweet Scoville Sting (Honey Jalapeno Ale) at the Best in Craft Beer in Bend Oregon.