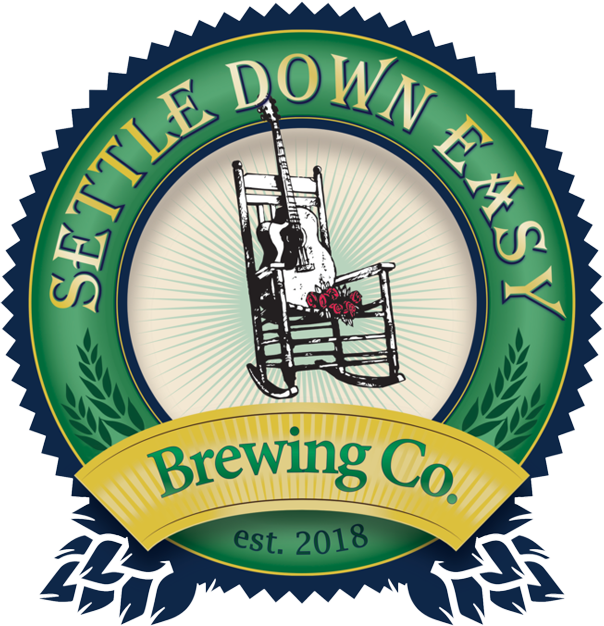 About

Our Story
The concept of Settle Down Easy came together one year following the death of Bryan, the younger brother of one of our owners.  After Bryan was gone, a dear friend posted a story on his Facebook wall that started with the words – Settle Down Easy… That phrase stuck with us and we chose it with care and intention as the name for our new brewery. As Grateful Dead fans will know immediately, these lines were selected from lyrics in the Grateful Dead song Ramble on Rose. To us, settle down easy means providing a pleasant setting that brings people together over a shared love of meaningful music and amazing beer!
Bryan (better known by his friends as Tut), loved the Notre Dame fighting Irish, inspiring us to adopt the school's color palette of green and gold in our logo design. Likewise, the 36 wheat kernels in our logo are a tribute to Bryan who passed away just 2 days shy of his 36th birthday.
The rest of our corporate imagery was also chosen purposefully with the 6 roses on the rocking chair in our logo representing the 6 children of our 3 owners. The guitar in the logo symbolizes the type of music we love, which expands our minds and touches our souls. The rocking chair itself is intended to evoke the feeling one has when relaxing in a comfortable chair on a huge wraparound front porch or a beautiful waterfront overlook.
We had our great beer, we had our meaningful logo, and our dreams for creating a welcoming brewery were beginning to take shape. As plans for the brewery progressed, we filed for a trademark on "Settle Down Easy". Unfortunately, our application was rejected, and we learned that Odell Brewing Co in Fort Collins already owned the rights for Settle Down Brown, similar enough to our name that ours was an apparent infringement.  We weren't ready to give up on Settle Down Easy however and we persisted, continuing on to have thoughtful and heartfelt conversations with Odell Brewing. On what would have been Bryan's 39th birthday, Odell Brewing granted us the rights to use the Settle Down Easy name.  Needless to say, we all felt this was a sign that something very special was happening with our brewery.
---
Head Brewer – Derek Stillwagon
Our brewmaster, Derek Stillwagon, is a passionate brewer and is incredibly knowledgeable about all things brewing. He came naturally to the practice having attended the University of Florida in Gainesville during the years it was voted #1 Party School in America.  During his last year in Gainesville, Derek worked part time at Tall Paul's craft beer bar and nanobrewery as a bouncer and bartender.  Seeking a change of scenery after graduation, Derek moved to Chicago for 3 years and began to build his brewing experience. He borrowed an all-grain setup from a friend and brewed extensively to fill an ambitious 8 tap "keezer". Together with good friend and co-worker Chef John Hart, he also bought a 5 gallon homebrewing kit. He started off by making an Irish oatmeal coffee stout and his first brewing lesson was quickly learned:  One pound of coffee is too much coffee for 5 gallons of beer, it but is just right if you want to stay up all night watching Netflix.
For two years Derek hosted potluck brew-parties for large groups of restaurant friends.  During that time he brewed prolifically, developing personal batches of beer and crafting a variety of styles while honing favorite recipes – like Derek's Pale Ale.
A few moves later Derek landed in northern Virginia where he delved more deeply into the brewing profession. He began working at MyLocalHomeBrewShop as they were celebrating their 10 anniversary in business, and he spent 5 years there helping brewers expand their knowledge of beer making.  Serving as the brew shop's manager, Derek became the face of the business, meeting and sharing brewing secrets with many local home and professional brewers along the way.
In spring 2019, with demand for SDE beer exploding, it was time to bring in someone to assist our Head Brewer. Derek was the perfect fit of experience and attitude! Since joining us, Derek has won a Gold Medal for his work on our Sweet Scoville Sting (Honey Jalapeno Ale) at the Best in Craft Beer competition in Bend Oregon. We look forward to tasting many more innovative concoctions from Derek.